Standing Up for Social Security & Medicare
"Those who suggest that we should privatize Social Security, or turn Medicare over to the health insurance industry, are blind to what life would be like for Rhode Island seniors and their families without these important programs."
Taking Care of Our Seniors
For generations, we have made a promise to senior citizens that they will be able to count on Social Security and Medicare for a measure of dignity at the end of their lives. Today, these programs stand as twin pillars of economic fairness and retirement security.
Some in Washington say we can no longer afford to keep our promise, and that we need to scrap these programs on which so many seniors rely. I strongly disagree, and I'm working to strengthen Social Security and extend its solvency without jeopardizing benefits. And I'm fighting for reforms to Medicare that bring down costs, improve delivery of care, and eliminate fraud and abuse–again, without cutting benefits for our seniors.
How I'm Fighting to Protect Social Security and Medicare
The Rhode Island seniors I have heard from at my community dinners and at senior centers around the state are deeply concerned about what would happen if their benefits were cut. That's why I'm standing up against efforts to balance the budget on the backs of Social Security and Medicare beneficiaries.
Here are some of the ways I'm working to keep Social Security and Medicare secure for Rhode Island seniors:
Defending Social Security and Medicare from Budget Cuts
I am proud to have cosponsored of the Medicare Protection Act, which would make it more difficult for the Senate to cut Medicare benefits by prohibiting such changes from fast-track budget legislation. In addition, the bill would express the sense of the Senate that the Medicare age should not be raised and that the program should not be converted into a voucher system. In February 2014, I joined with several of my Senate colleagues in sending a letter to President Obama urging him to protect Social Security, Medicare and Medicaid from budget cuts. And I have also cosponsored legislation to strengthen Social Security for the future by asking the wealthiest Americans to pay their fair share into the system.
I believe in these principles and will continue to fight Republican attacks on Medicare.
Fighting for Lower Prescription Costs
I was proud to have helped lead the successful fight to close the Medicare Part D prescription drug "doughnut hole" that forced seniors to pay the full cost for their prescriptions. I have cosponsored of the Medicare Prescription Drug Savings and Choice Act, which would require that Medicare offer at least one prescription drug benefit plan directly to beneficiaries. The bill would also allow seniors to bypass the confusing process of selecting among private insurance plans and sign up with Medicare directly. I have also cosponsored the Medicare Drug Savings Act, which eliminates a sweetheart deal for brand-name drug manufacturers that allows them to charge higher prices for millions of low-income enrollees in the Medicare Part D program. This change is estimated to save taxpayers $141 billion over ten years.
Preventing Fraud and Abuse
In an effort to rein in the costs of federal health care programs, I helped pass legislation to crack down on fraudulent Medicare claims by requiring Medicare to use predictive modeling technology (like credit card companies use to detect fraud) to stop unlawful Medicare payments before taxpayer funds are spent. I have cosponsored the Medicare and Medicaid Fighting Fraud and Abuse to Save Taxpayers' Dollars Act (the Medicare and Medicaid FAST Act) to take steps to reduce waste, fraud, and abuse in Medicare and Medicaid. I have also requested Government Accountability Office audits of several key programs to analyze and identify potential fraudulent or abusive activity.
Standing With the Defend Social Security Caucus
I am a founding member of the Senate's Defend Social Security Caucus. This group is standing strong to protect seniors and Social Security from Wall Street's privatization efforts and other proposals to cut benefits.
Successes for Seniors
Here are a few of the things I have done in the Senate to defend Social Security and Medicare:
Closing The Medicare Doughnut Hole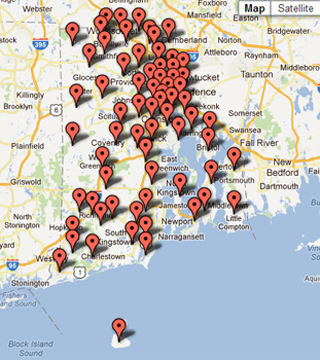 See The 2011 Savings By Zip Code On This Interactive Map
Led the successful fight to close the Medicare Part D "doughnut hole," which previously left thousands of Rhode Island seniors paying the full cost of their prescription drugs every year. In 2013, 13,993 Rhode Island seniors benefitted from the closing of the doughnut hole, saving more than $9.9 million, an average of $709 per beneficiary.

Guaranteed seniors' access to checkups and screenings by fighting to pass the Affordable Care Act, which allows Medicare beneficiaries access to free preventive services. In 2013, over 29,530 Rhode Island Medicare beneficiaries received a free annual wellness visit.
Expanded access to care for patients with chronic conditions by helping the Rhode Island Chronic Care Sustainability Initiative receive enhanced payments from Medicare for its innovative, coordinated efforts to improve patient care.
Helped secure a one-time payment of $250 in 2009 for seniors and disabled individuals receiving Social Security.
Helped secure a $300 rebate for seniors and Social Security Disability Insurance recipients in 2008.
Your Ideas: How Can We Best Support Our Seniors?
I'm working to make sure that Social Security and Medicare serve Rhode Islanders as reliably and efficiently as possible.
I'd like to hear from you. What policies would you like to see enacted to improve Social Security and Medicare?
Share your thoughts and ideas.
Latest

Washington, DC - Today, U.S. Senate Budget Committee Chairman Patty Murray (D-WA) released her proposed budget resolution for Fiscal Year 2014, and the Committee began its markup of the resolution with members providing opening statements. U.S. Senator Sheldon Whitehouse (D-RI), a member of th...…Read More

Posted on 3/13/2013

Washington, DC - Today, U.S. Senator Sheldon Whitehouse joined Senator Bernie Sanders (I-VT) to introduce the Keeping Our Social Security Promises Act, which will strengthen the program for future generations. The bill would ensure that Social Security remains solvent for the next 50 years by...…Read More

Posted on 3/7/2013

East Providence, RI - U.S. Senator Sheldon Whitehouse today visited with East Providence seniors at Orchard View Manor to discuss his efforts to preserve Social Security and Medicare benefits, make prescription drugs more affordable by allowing Medicare to negotiate prices with drug companies, and o...…Read More

Posted on 8/15/2012

|

East Providence, RI - U.S. Senator Sheldon Whitehouse (D-RI) today convened an official field hearing of the U.S. Senate Judiciary Subcommittee on Crime and Terrorism in East Providence, RI, to examine ways to reduce costs and strengthen health care programs like Medicare and Medicaid by cracking down on frau...…Read More

Posted on 3/26/2012

|

Providence, RI, October 25, 2011 - Last week, the Social Security Administration announced that seniors and disabled citizens in Rhode Island and throughout the country will receive an increase in their benefits next year for the first time since 2009. In order to help spread the word about this bo...…Read More

Posted on 10/25/2011

|