Recalcitrant Cancer Research Act Included in Final Defense Authorization Bill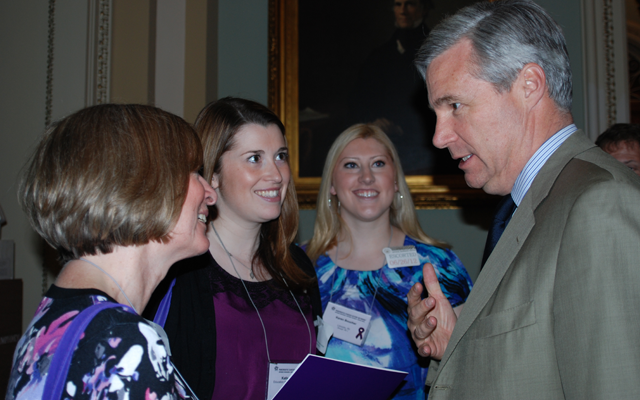 Washington, DC – The U.S. Senate today passed the final version of the National Defense Authorization Act (NDAA) of 2012, sending the bill to President Obama to sign into law. U.S. Senator Sheldon Whitehouse's (D-RI) Recalcitrant Cancer Research Act, which will support the coordination of research on cancers that have persistently low survival rates, was included as an amendment to the NDAA.
"I hope this legislation will help to secure a brighter future for patients suffering from recalcitrant cancers like lung cancer and pancreatic cancer," said Whitehouse, whose mother died of pancreatic cancer.
"I've met with too many Rhode Islanders who have lost a loved one to these deadly cancers. On their behalf, I thank all of my colleagues for supporting this common-sense bill, and I look forward to having the President sign it into law."
The Recalcitrant Cancer Research Act would direct the National Cancer Institute to work with federal and non-federal representatives to develop scientific frameworks for assessing and advancing research on cancers with five-year survival rates below 50 percent. Advancements in the diagnosis and treatment of so-called recalcitrant cancers, such as cancer of the pancreas, lung, liver, or ovaries, have lagged behind the overall gains made in fighting the disease in recent years. For lung cancer, the number-one cancer killer in the United States, the five-year relative survival rate is less than 16 percent, despite the survival rates for all cancers improving from 50 to 67 percent over the past 40 years. For pancreatic cancer, the survival rate remains at 6 percent.
"The passage of this bill is a milestone in the history of pancreatic cancer. This is the first substantive legislation for this disease. On behalf of the entire pancreatic cancer community, we commend Congress for passing the Recalcitrant Cancer Research Act and are deeply grateful for the leadership and continued support of all of the bill's champions, Senator Sheldon Whitehouse and Representatives Anna Eshoo and Leonard Lance," said Julie Fleshman, president and CEO of the Pancreatic Cancer Action Network. "This moment would not have been possible if it wasn't for their dedication and the incredible commitment and hard work of our volunteer network."
Also included in the defense bill was a Whitehouse measure supporting the Department of Defense's ongoing efforts to track military assets, which will save taxpayer dollars and help prevent counterfeit military items from entering the supply chain. The measure was strongly supported by A2B Tracking, a Rhode Island company that manufactures unique identification technology for the military as well as tracking software that could be used to prevent the distribution of counterfeit products.
The NDAA authorizes funding for defense programs in the year ahead. Among other things, it authorizes funding for the construction of two Virginia-class submarines – an important priority for the defense industry in Rhode Island.
Photo Caption: Sheldon Whitehouse speaking with Rhode Island families who came to DC to share their experiences with pancreatic cancer and request increased research on June 26, 2012 in the United States Capital.
###